See your distance, calories burned, performance and more with the new SWIMTAG connected bracelet, 
available at the pool office.
---
How to benefit from the SWIMTAG offer?
---
You must be a customer of Coque Kaart.
Ask for it for free at the reception.
---
Activate your Swimtag offer for a one-off payment of €15 at the pool cash desk.
---
Collect your bracelet in the Aquatic Centre from a swimming instructor in exchange for your d'Coque Kaart.
---
At the end of your session, remember to return the Swimtag bracelet to the instructor and collect your d'Coque Kaart.
---
Log in via the Swimtag application to consult your statistics, indicating your "d'Coque Kaart" ID* and the name of your pool "d'Coque".
---
TAKE PART IN OUR COMPETITIONS & CHALLENGES:
Please note that in order to participate in our competitions and challenges, you must first allow us to view your swimming data in the registration settings / privacy section (see screenshot below).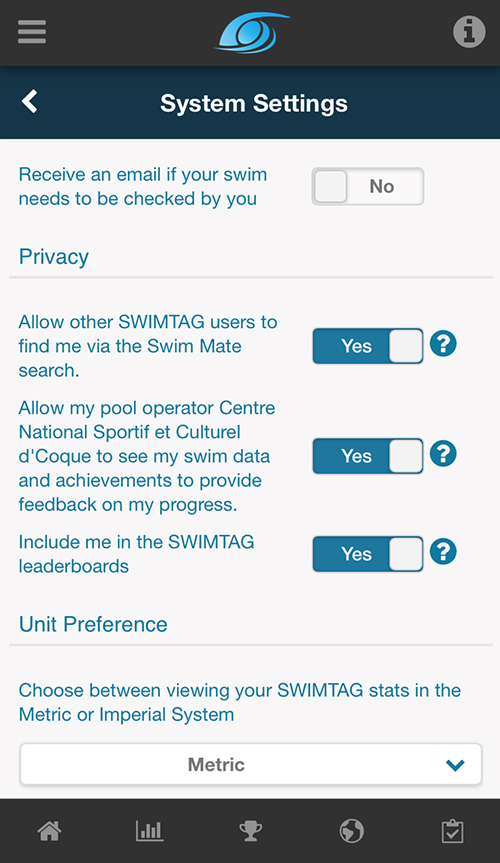 By accepting the privacy settings, this will give you access to all the features of the Swimtag bracelet:
- Challenges
:
Challenge yourself and others to take on an epic swim. Select a start and finish date for your Challenge and SWIMTAG will update your progress as you move along the map.
- Competitions :
Competitions pitch you against other swimmers at your local pool or across the country, swim the set distance and stroke type and SWIMTAG will post your best time to the leaderboard.
- Contests
:
Be one of the best swimmers on our ranking pool and try to win prizes.
---
Discover all the features of Swimtag on the official website www.swimtag.com