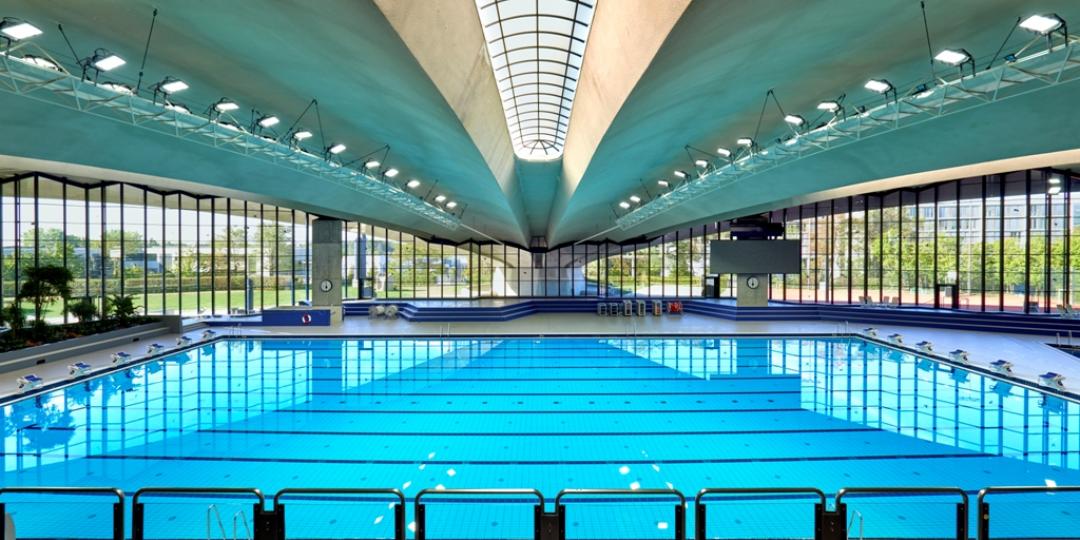 The Aquatic Centre of the Coque has a 50-metre Olympic competition pool, a diving tower (1m, 3m, 5m, 7.5m, 10m), an initiation pool, a paddling pool, a gym and a relaxation area.
Olympic pool
Outside school holidays, the Olympic pool's layout can be changed depending on the time slots. 
50m configuration:

Monday from 12:00 pm to 02:00 pm and from 04:00 pm to 10:00 pm.
Tuesday to Friday from 07:00 am to 08:00 am, from 12:00 pm to 02:00 pm and from 04:00 pm to 10:00 pm.
Saturday and Sunday

25m configuration :

Monday from 02:00 pm to 04:00 pm.
Tuesday to Friday from 08:00 am to 12:00 pm and from 02:00 pm to 04:00 pm.
During school holidays, the Olympic pool is always set up in the 50m configuration.
Initiation pool
An additional 25m pool is available to our customers except Tuesdays to Fridays from 8:00 to 9:30am, during this time period the pool is reserved for schools.
Terms and Conditions of Access
Please note that the use of a swim cap is mandatory in the Aquatic Centre. Swim caps are available for purchase at the Coque reception desk or the Aquatic Centre's cash desk.

Please note that minors under the age of 10 are not allowed in the pools unless accompanied by an adult or guardian.
The opening hours of the Fitness in the Aquatic Centre are the same as the opening hours of the Wellness Centre.
Holders of a Coque Kaart can access the pools one hour before the official opening hours, from Tuesday to Friday (and two hours before during the weekend).
---
In addition to these pools open to the public, the Aquatic Centre also includes a health and sports pool reserved for water classes, a 50m training pool reserved for sports federations and schools and a diving well accessible only via the diving club and when accompanied by an instructor holding the appropriate diploma.
During national and international swimming or diving competitions, spectators have access to 650 seats on the bleachers overlooking the pools.
---
General Information
Tél: 43 60 60 - 110
Our facilities:
Olympic competition pool 
Olympic training pool 
Sports & Health pool
Initiation pool with increasing depth
Paddling pool with games for toddlers
Diving pool 15m
Diving tower 1m, 3m, 5m, 7.5m, 10m
Lounge area
Fitness area
Bleachers